120 BOOTH ROAD
NORTH BAY, ON P1B 8Z4
PHONE (705) 497-3586
TOLL FREE (888) 411-0400
FAX (705) 497-3831
www.allsheltersalesandrentals.com
TENT AND PARTY RENTALS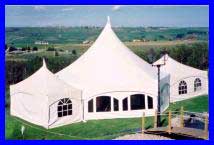 Click here to view our price list and FAQ .
WEDDINGS
If you are planning an outdoor tent wedding ask our staff for tips and planning suggestions. Whether it be a small ceremony in the park or a large reception in your back yard, we can supply what you need from our substantial rental inventory. All Shelter also provides party rental and catering equipment to many reception halls and restaurants in the North Bay and surrounding area.

FESTIVALS & LARGE SCALE PARTIES
Because of our experience and extensive inventory of tents, All Shelter has been supplying tents to large festivals and events for nearly 20 years. We have been providing worry-free tenting service to the Canadian National Exhibition since 1986, and this year will make 12 years that All Shelter has been the exclusive provider of tents to the North Bay Heritage Festival and Airshow. All Shelter has been Callander's Celt Fest tent provider since its inception. Just ask, and we would be happy to share other events we are proud to have been a part of (ie. 1988 Olympics, "In Laws" movie, "The Scarlet Letter" movie, Sudbury Junior Olympics, North Bay Mayor's Gala, 2002 Near North Trails Association, Frog's Breath, Just for Laughs Festival in Montreal, Royal Winter Fair, Le Clos Jordan Winery, Jackson Triggs Winery, Ottawa Children's Festival, and many many more). Not only is All Shelter equipped for your tenting needs, we also have a large inventory of party rental items. Whether it be an intimate affair by the beach, or a large-scale corporate dinner All Shelter is able to supply your needs. Please contact our office for details and price quotes.
Whenever convenient please drop by our showroom to see us.
This is a great way to see the items that are available for rent or view pictures of previous special event projects we have done. While you are in our showroom, our experienced and knowledgeable staff would be happy to help you with any planning or idea suggestions for your next event.
HOME | TENT AND PARTY RENTALS | PRICE LIST | TENT SALES | TENT SIZE | ITEMS FOR SALE | FAQ | LOCATION
120 BOOTH ROAD
NORTH BAY, ON P1B 8Z4
PHONE (705) 497-3586
TOLL FREE (888) 411-0400
FAX (705) 497-3831
All Rights Reserved Copyright © November - 2003 - Webmaster: D WebDesigns and Services (705) 752-2258